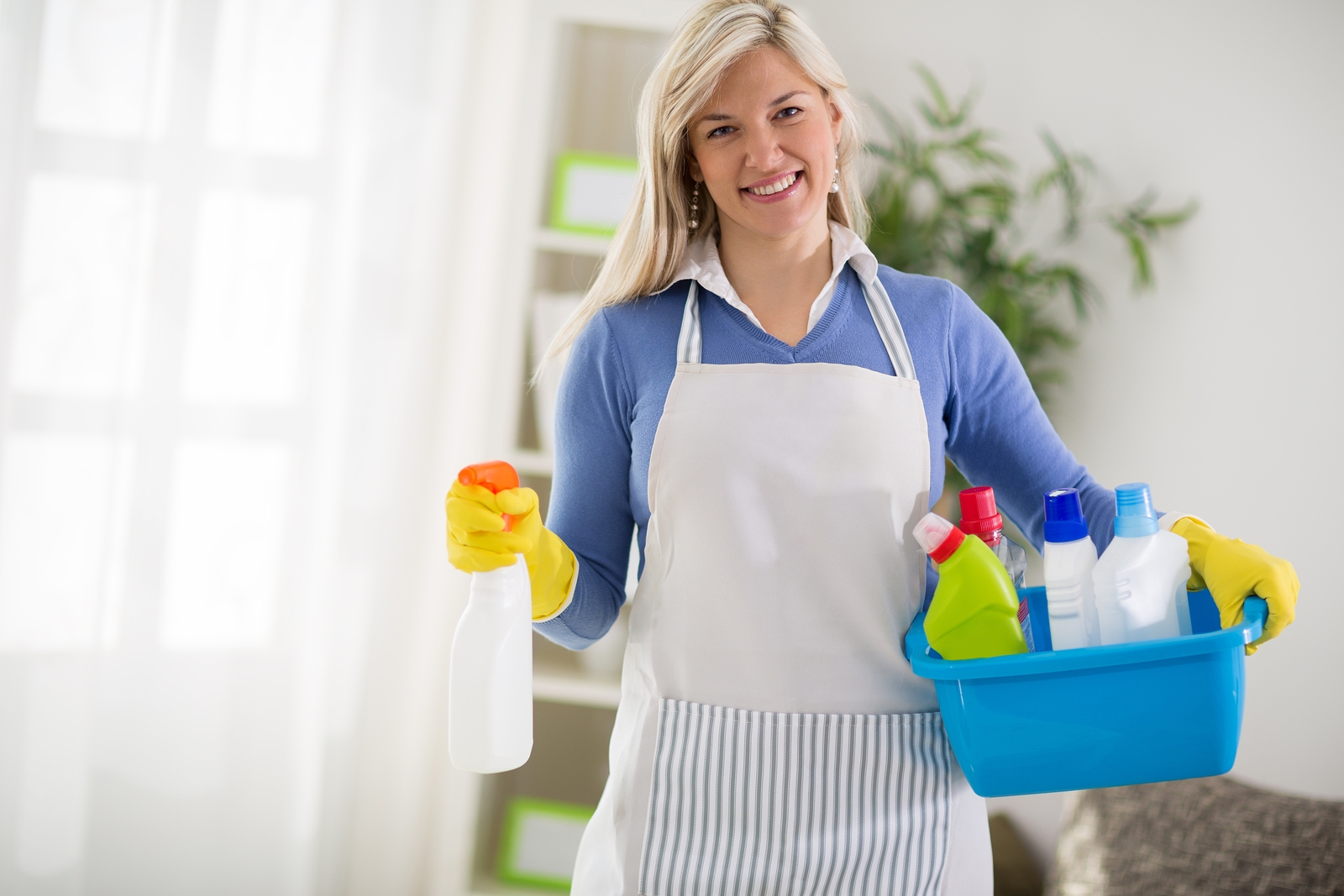 09 Jun

Spring Cleaning Checklist for Your Home

Springtime is traditionally a time for major housecleaning. Much more than just the routine dusting and vacuuming, spring house cleaning is meant to rid your home of the residue of the winter. This annual task is great way to refresh your home but it can be overwhelming. It will seem less daunting if you plan your tasks and gather you cleaning tools and products ahead of time. A spring cleaning checklist can help.
High Traffic Areas
Main entrances and transition areas where the flooring switches from carpet to wood or tile floors typically have the most visible soiling. While most of this dirt is tracked in from the outside, pet dander, dust mites, cooking oils and even residue from cigarette smoke contribute from within the house.
Start by thoroughly vacuuming entryways, main living areas and any other high traffic areas in your home. This will eliminate any dry particulate soil and contaminants. These can aggravate allergies as well as make your floors look dull and dingy.
Spots and spills require immediate attention. Blot spills with a towel. Apply a mild carpet cleaning solution but don't scrub it. Gently agitate the solution into the carpet and finish up by rinsing and blot with a clean towel.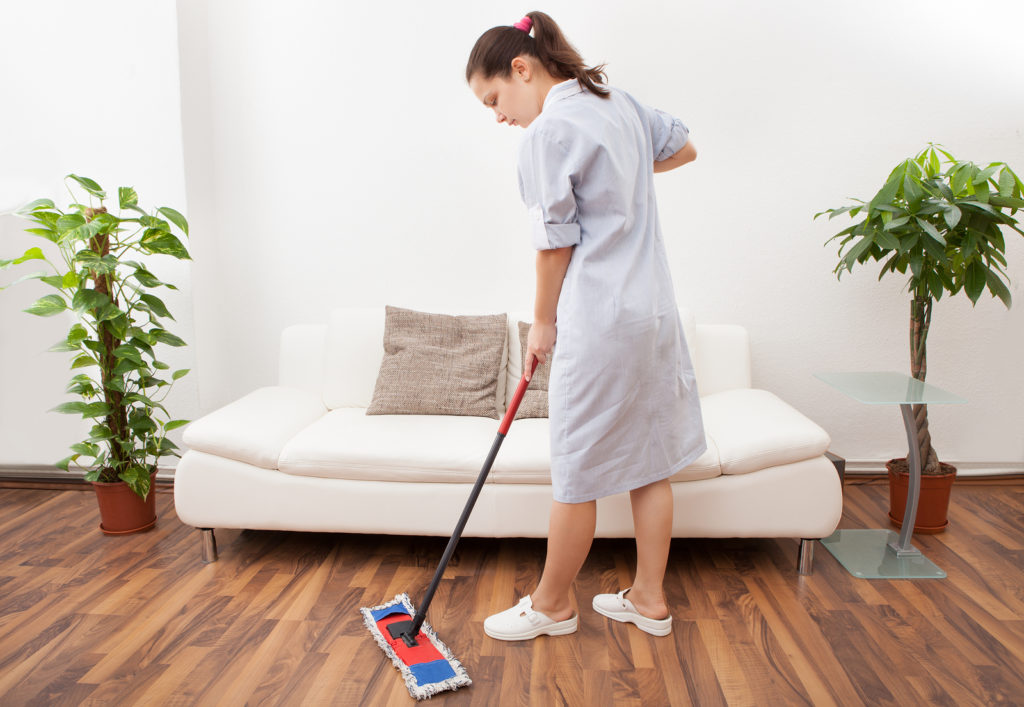 Clean Hard Surface Floors
Properly maintaining wood, stone, and tile floor surfaces can help keep your carpets and rugs cleaner. Dirt from hard surface floors is easily tracked onto your carpeting.
You can use a mop and bucket, disposable cleaning pads or reusable microfiber pads to clean hard flooring. Be sure to use the appropriate cleaning agent and rinse thoroughly, removing all residue.
Consumer grade cleaning agents can successfully remove most visible soiling. If grout, stone or the grooves between the floorboards appear discolored, it might be time to consider having your hard surface floors cleaned by a professional.
Address Upholstery Stains
In addition to obvious soiling, your upholstery is a refuge for dust mites. To remove these microscopic creatures, your upholstery should be cleaned.
You will need to determine what type of upholstery you have. Then before you attempt to clean any stains or dirt build-up, follow the manufacturer's directions to determine dye stability. Some dyes and fabric can shrink, bleed or become discolored from certain cleaning agents.
It's important to know if your upholstery can be wet-cleaned with a water-based solution, solvent-cleaned or if it can only be vacuumed. If you are unsure how to properly clean your upholstery, it is best to consult with a professional.
Deep Clean Carpets
It doesn't matter what type of carpet you have, it tends hide a lot of the dust, dirt and sticky soil attracting residues that build up in its fibers. In addition, spots and spills may not have been cleaned properly and if left, may cause permanent damage.
Most manufacturers recommend that carpets be professionally cleaned annually and spring cleaning season is a great time to have them done. By considering factors like the number of people in your home, the soiling condition of your carpet and whether there are smokers or pets in your home, a carpet cleaning professional can make recommendations for properly and thoroughly cleaning your carpets.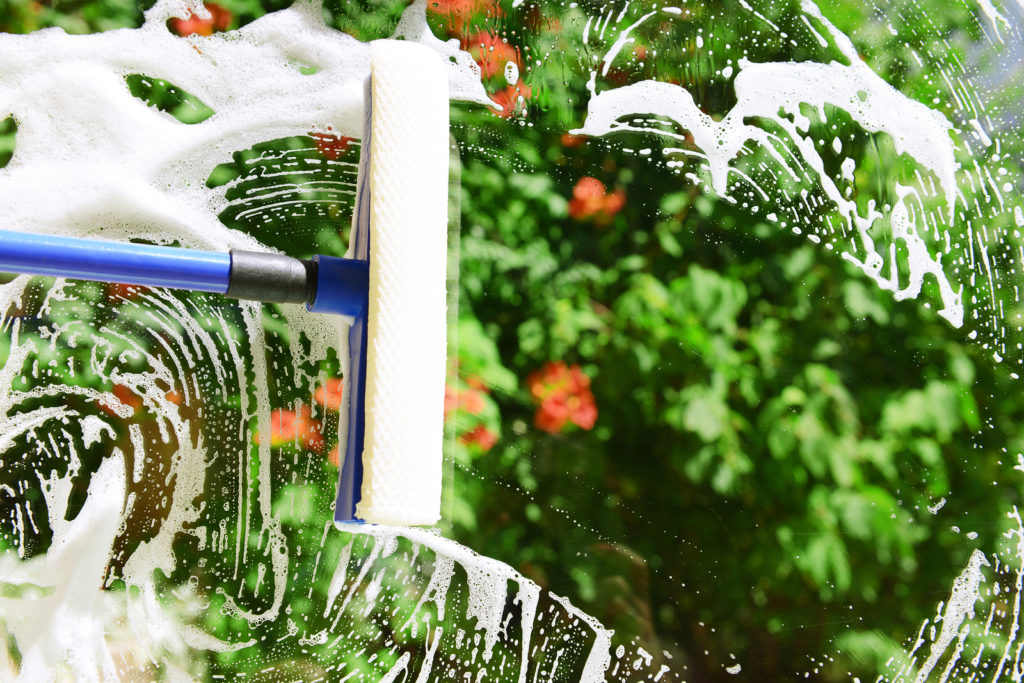 Clean Windows and Screens
This is typically one of a homeowner's least favorite spring cleaning chores, but clean windows can really have a big impact on the appearance of your home.
When tackling spring window cleaning, it's best to skip the pre-made blue, ammonia based cleaner and the paper towels. This will only smear dirt around and create static.
Scrubbing the windows and wiping them dry with a squeegee will remove the dirt from the window. Be sure to wipe the squeegee with a clean towel in between each swipe.
When cleaning windows, many homeowners overlook or neglect to clean the screens. It won't matter how sparkling clean your windows are if they are covered up by a dirty screen.
Use a dust brush to remove any loose debris from screen, tracks and sills, then clean your screens with the hose and your favorite cleaning solution.
If you're ready to get started on your spring cleaning, grab your checklist and give Always Immaculate Services a call. We can help with many of your spring clean needs. We are IICRC Certified and have over 20 years of experience with all types of carpet and upholstery. Experience, training and dedication is what puts our services a cut above the rest. Contact us today for a free on-site consultation and you can personally discuss your cleaning needs with a member of our team.