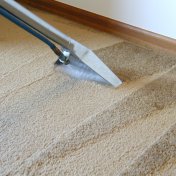 08 Sep

How Much Does Professional Carpet Cleaning Cost?

Maybe you've read about the benefits of carpet cleaning. Maybe you've been to the house of a friend who recently had the job done, and you were amazed by the difference it made. Now you're interested in bringing a professional into your own home or business, but you have some questions. How much can you expect to pay? Are all carpet cleaning services more or less the same, or does the price vary according to the quality of cleaning provided? After all, nobody likes a surprise bill in a struggling economy. If professional carpet cleaning is going to cost a mint, perhaps it will have to wait.

The good news is that carpet cleaning cost may not be as expensive as you think. Quite often, people are surprised by the affordability of carpet cleaning performed by qualified professionals. Prices do, however, depend on the nature of the job and a number of other variables. Here are some of the most important factors that will determine the overall cost of having your carpets cleaned.

1. Equipment and experience

The saying "you get what you pay for" is true for a lot of things—and for the most part, professional carpet cleaning is no exception! If you do extensive research on carpet cleaners in your area, you may come across one or two companies whose rates are quite a bit lower than the others. The cost savings alone makes it tempting to hire them, but it's important to ask a few important questions first. Are they qualified? Certification from IICRC is always something to look for. A well-presented web presence and good customer reviews are another strong indicator. And what kind of equipment do they use? Truck-mounted hot water suction systems generally indicate a high professional standard.

Often times, companies who offer rock-bottom prices are simply not prepared to give your carpet a thorough, highly professional cleaning. Since carpet is an important part of many homes, not to mention a serious investment, most people seek a balance between low cost and quality work.

2. Square footage

Professionals obviously charge more when the surface area is larger, and less when it is smaller. A three bedroom house, for example, will incur a much lower cost than a sprawling office with thousands of square feet of carpet. If you call a company and give them the total square footage of your carpeted areas, they'll often provide you with an estimate. Rather than simply accepting whatever number they give you, find out how the pricing structure actually works. A reputable carpet cleaning company will offer consistent pricing structures and are happy to explain how they arrived at your estimate.

3. Past professional cleanings and home maintenance

One often overlooked factor in the cost of carpet cleaning is the cleaning history. If the carpet was professional cleaned five months prior, the job will likely be easier and will incur a lower cost. If it's been years, however, and the carpet is deeply soiled, it will take longer to cleanse the fibers and remove the accumulated material. Companies will often want to know when the carpet was last cleaned as a part of their estimate.

Home maintenance is another factor. Do you vacuum your carpet regularly, and have you treated stains yourself? Or is your carpet a visible history of spills and heavy foot traffic? For heavily soiled carpets, expect to pay a bit more for professional cleaning.

The bottom line: How much does it cost?

The popular consumer information site Angie's List asked its users how much they typically paid for professional carpet cleaning. They found that people generally paid between $25-75 per room, depending on where they live and the nature of the job. Not all companies charge per room, but this is effectively how the costing worked out amongst Angie's List users.

The low end of this range shows just how affordable carpet cleaning can be, especially since new carpet is usually an investment of thousands of dollars. We hope the factors listed above will go a long way in helping you determine how much it should cost to clean your carpets. Thanks for reading, and please leave any questions or comments below!