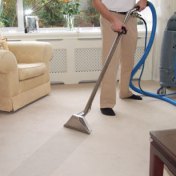 10 Aug

How Do I Find the Right Carpet Cleaners For Me?

Obviously, the two things you want most out of a carpet cleaner are fantastic results and reasonable prices. It's easy to find a price that works for you, but results can vary. If you're wondering how to find a company that provides a good service for the money, the following traits will guide you!

1. No Obligation Quotes

If you've come into contact with a company that doesn't offer a free quote, and instead either a) charges a fee to come out and give a quote or b) says they'll simply bill you after the job is done, it's a red flag. Most reputable companies have no problem giving you a free, no obligation quote based on the size and scope of your project. You should never have to guess what the bill is going to be. Settling on a price should be easy, clear and professional.

2. Written Service Guarantees

Does having a written contract seem like overkill in terms of carpet cleaning? It shouldn't! Your carpet is a serious investment, and having a contract in writing protects you against damage, negligence or just plain bad service. Verbal guarantees are all fine and good, but they're not real unless they're in writing. Look for companies that provide written contracts as a matter of course, and include their guarantees in writing. This means they're very unlikely to take shortcuts!

3. Industry Certification

Nothing says 'professional' like industry certification. For carpet cleaners in the United States, that means being certified by the Institute of Inspection Cleaning and Restoration Certification (IICRC). This is an independent organization that provides highly respected certification for companies in the cleaning, restoration, inspection and installation industries. When you're looking at web sites for carpet cleaning companies, keep your eyes peeled for the IICRC logo. It means the company's service have met rigorous quality standards. 

4. Customer Reviews

Customer reviews are playing a bigger part in just about everything these days. Carpet cleaning should be no exception. Services like GetFiveStars allow even small, local, independent companies to collect meaningful reviews that help other people make a decision. Do the reviews seem randomly published by the company itself? If so, they may not be as reliable. Look for companies that use independent review systems, or search for local reviews on sites like Angie's List, Yelp! or Google Reviews.

5. Truck-Mounted Cleaning Systems

A truck-mounted carpet cleaning system is a good sign of qualified, professional carpet cleaners. Because these systems are mounted to a van or truck, the only thing that goes inside your home or business is the hose. This has a two-fold effect. It eliminates the need to haul complicated equipment into the building, and delivers a cleaning action that is more powerful than a typical carpet cleaning system. This means less time, less inconvenience, better results and lower costs. 

Finding quality carpet cleaners is easy when you look for these traits. Companies that have them all are likely to provide excellent value for the money. Do you have questions or comments? We'd love to hear about your experiences with carpet cleaning companies. Please feel free to leave feedback in the box below, or contact us for more information on carpet cleaning.